Residential Plating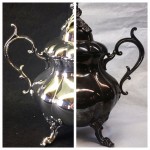 Residential plating is for everyone! It is any metal that need to be maintained around your residence! In addition, it is those truly personal projects that will stay in a family or house hold for generations. For example faucets, silver-ware, teapot's, jewelry or statues just to name a few Its like copper plating your motorcycle or polishing your grandmas favorite silver tea set. Residential plating brings in a lot of interesting artifacts. American Plating Company's residential plating is keeping the memories of our ancestors alive. They made things to last hundreds of years back in the day. And We are happy to keep that tradition alive!
Careful Handling Of Residential Plating:
Its more than plating its legacy. As a result Gold, Silver, Copper, Tin, Nickel and Brass are the materials of our treasures American Plating company completely understands. Most importantly we are working with irreplaceable trinkets and making a mistake is not an option. We work by hand and really examine the metal before we start our Process.