Multi-Metal Surface Platting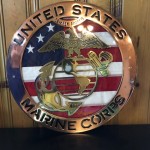 Multi-Metal Surface Platting is a new trend we perfected in the shop! This technique brings old things out and captures them in a new light. We bring out all the details we would miss with traditional plating methods. For example, we this traditional Marine Corps logo is a single mettle with three different layers over it. The circle is copper, the Eagle, land masses, and anchor are all brass, and the remaining parts are all nickel.
How Do We Accomplish a Multi-Metal Surface Platting Job?
We have a few different ways to accomplish this feat. One is to add a lawer of paint that won't peel off in high temperatures. This is in the picture to the right, this prevents the copper from sticking to the places that need to stay that nice nickel color. In addition, we also consider the different temperatures metals can withstand. Meaning, we add the colder metals last.
Another method we utilize is a special tape. For example we have a customer who wanted to have a professional chef autograph his copper pots and pans. The pots and pans are copper and his signature is in nickel.